ACE Management Consulting is part of ACE + Company. Within this corporate family we have Atomic Interim Professionals and ACT Regtech Solutions. Together we aim to leverage pockets of capabilities and expertise across our brands.
We structure all the knowledge in expert groups, we call affinity groups. With these affinity groups we strive to build expertise throughout ACE + Company, allowing for creating methodologies, relevant case studies and to perform market research.

As we have many years of experience at board- and near board level with our clients in the financial sector we understand the needs. These needs are predominantly twofold. At times there is a need of a team of professionals, a team of consultants to achieve objectives. ACE management consulting is the appropriate source. Whereas, if there is a need to fulfill a particular position in the organisation ATOMIC is the ideal source.
ACE & Sustainability
EcoVadis Gold Certificate
We are pleased to share that ACE has achieved the distinguished EcoVadis Gold Certificate, a recognition that underscores our steadfast commitment to sustainability and responsible business practices.
This accomplishment situates us among the top 4% of companies in our sector, reflecting our dedication to promoting positive environmental and societal influences. Our journey towards a more sustainable future continues through a focus on innovation and collaboration.
Our Carbon Offset
Sustainability plays a major role in the advisory work we do for our clients. We consult on sustainability-related regulation, strategy, and climate risk management. Through our clients, ACE's limited size and influence can be leveraged to have maximum impact on the world around us. However, despite our size, we still leave a footprint on our environment by using goods and energy, and traveling to our office and clients. ACE estimates it's carbon footprint to be around 27 tonnes of CO2-equivalent on a yearly basis. This included our scope 1 and 2 direct emissions, and our scope 3 indirect emissions. To minimize the impact that ACE has on our planet, we offset the entirety of these emissions via Gold Standard certified carbon offsets.
In 2023, ACE purchased 27 Verified Emissions Reductions to save 27 tonnes of CO2-equivalent from being released into the atmosphere, offsetting our entire 2022 emissions.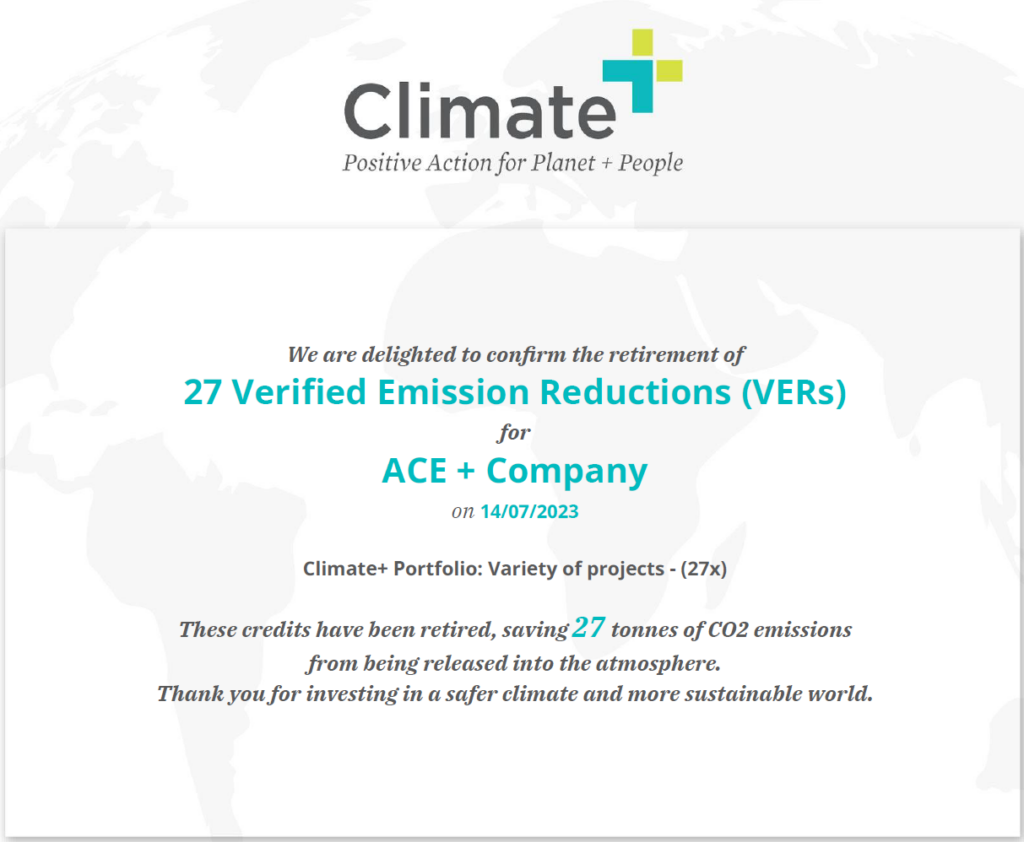 ACE & Brilliant Failure
Declaration of the Right to Fail Brilliantly
We are committed to facilitating and making learning experiences accessible. In doing so, we embrace failure as an important learning opportunity. Want to learn more? Read our declaration here.